The Tailhook is a unique pack. An amply-sized lumbar pack, it has many of the capabilities of a full-scale pack, and a great deal of versatility. As used on the Tailhook, our patented Ripcord Tether™ completes the Quickdraw System that we pioneered with our Backscabbard™ rifle packs.
The small upper bag provides a platform for a bow or a rifle to rest on, and makes the pack carry them with exceptional stability. The upper bag's internal pocket incorporates a spacer pad to keep the bow or rifle away from your head.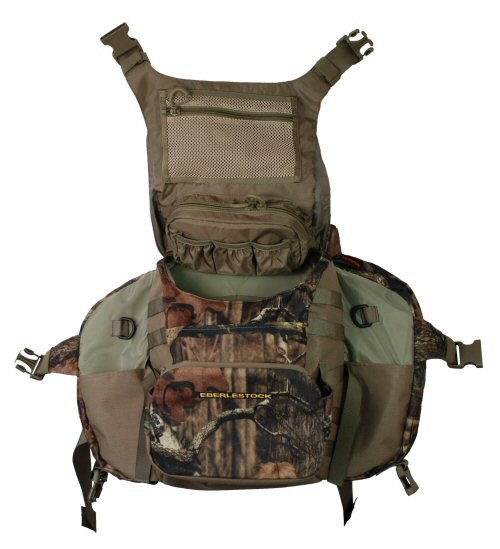 Note the great way that this pack opens up. And note the accessibility and arrangement of the pockets. Count 'em if you want to. If you include the bow carrier, there are 21 separate storage compartments and pockets on the Tailhook. That doesn't mean it's overloaded with them; it's just sensibly laid out. And it's a great pack for being organized in the field; once you decide where everything goes, you will always be able to go right at it.
Our unique "Tailhook" redefines treestand hunting. Its opposing main flap's buckles are made to wrap around a tree and easily hang the pack, converting it to the ultimate organizer. The standard pack will go around a pretty good sized trunk, but if you've got to go around a really big one, you can add our ACSE strap extension kit, a 3-pack of straps and buckles that add length in 1-foot increments.
Carrying a bow adds a challenge to many hunting situations. Bows tend to get in your way when you're trying to move quietly, and they're heavy after a full day. We think that getting your bow or your rifle off of your pack is an obvious need for a hunter, but for some reason, it didn't exist until we made the effort to develop it. We began by introducing our Backscabbard rifle packs, which customers around the world have come to love. So we developed the same kind of solution for bow hunters. You can safely stow your bow, and keep your hands free for climbing, crawling, clearing branches, and all of the other stuff you do when you're out there. You'll concentrate better, you'll be more effective, and you'll quickly have access to your bow when you need it.

Another thing that differentiates the Tailhook is that while wearing it, you can sit down. Which means that you can ride a horse or an ATV while carrying a bow. Or, you can just sit. Add the plush comfort that the pack offers, and the unparalleled features, and you've got an unbeatable bow hunter's pack.
The Tailhook is also an excellent gun pack. The design features a vertically adjustable ButtBucket trade that you can drop down in order to carry your rifle at your preferred height. As shown above left, the butt of a gun rests in the ButtBucket the Ripcord around the forestock (it works well if you go around below a swivel stud), pull it tight, and off you go. To get your rifle off of your back, just grab the barrel with one hand and the Ripcord buckle with the other, and pop it off.

A second alternative is to add a side scabbard to the pack. As shown at right (with an A2SS Scoped Rifle Scabbard), you can hook the scabbard to the top pad, use the Ripcord Tether to and the built-in grapple/compression strap to stabilize it. This arrangement works with any of our side scabbards, so the system can be optimized for any man-portable weapon.

The Tailhook has a full complement of accessory pockets, plus a removable shoulder harness (for use as a lumbar pack only) and a removable waistbelt. Speaking of the waistbelt, we haven't skimped on the padding on this pack... We make these things knowing that you're going to be wearing them all day, every day, and we want you to be comfortable. We use a full-sized freight pack's waist belt so that it'll ride well. Deep cut padding provides extra ventilation.

Specifications:

| | |
| --- | --- |
| Dimensions: | 11.5"h x 16"w x 5.5"d |
| Weight: | 5 lbs. |
| Volume: | 900 cu in |

Camo color availability will vary. See online store for current selection.

NT7 Waterproof Microfleece.