Discreet Weapon and Multipurpose Packs: Cherry Bomb and Secret Weapon: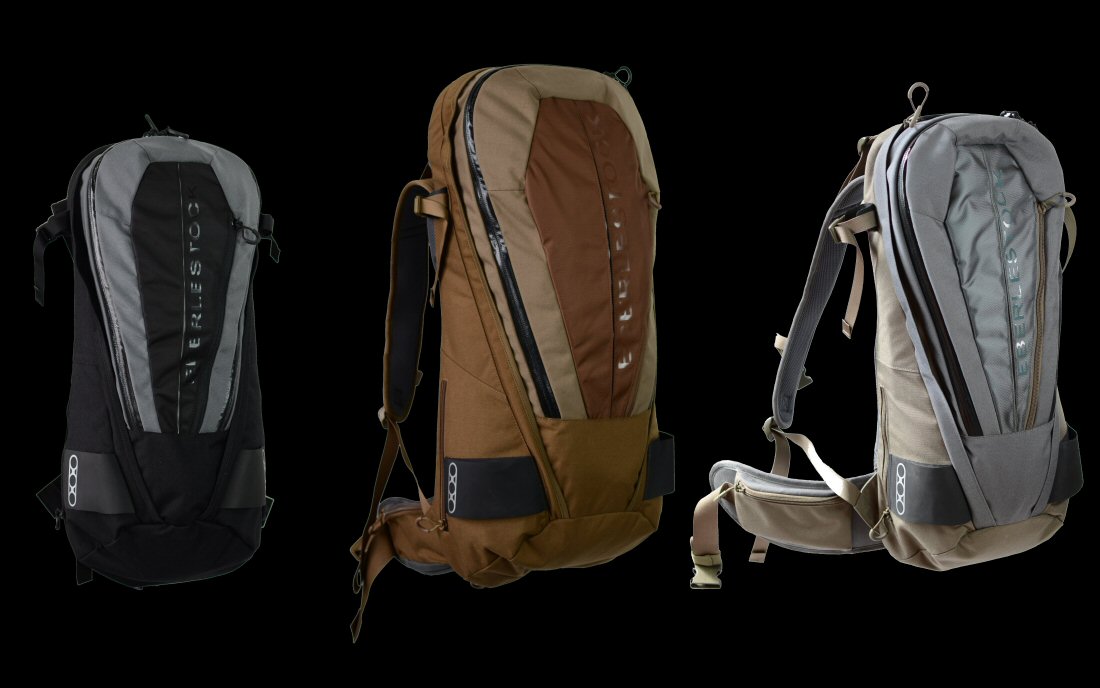 If you want a bag that will carry a folding sniper rifle, an 11" barreled M4, or that doubles as compact luggage, check out the S34 Secret Weapon.

If, on the other hand, you want a slim-line day bag that works equally well as a laptop carrier or as a pack for a 7" barreled M4, check out the S25 Cherry Bomb. In our field trials with the packs, the Cherry Bomb became thought of as a "vertical briefcase." With the waist belt removed, it's an ultra-comfortable, handy little pack that is right at home running through airports or going from home-to-car-to-office and back. No doubt you'll spot these bags riding the subways of the world with the morning commute.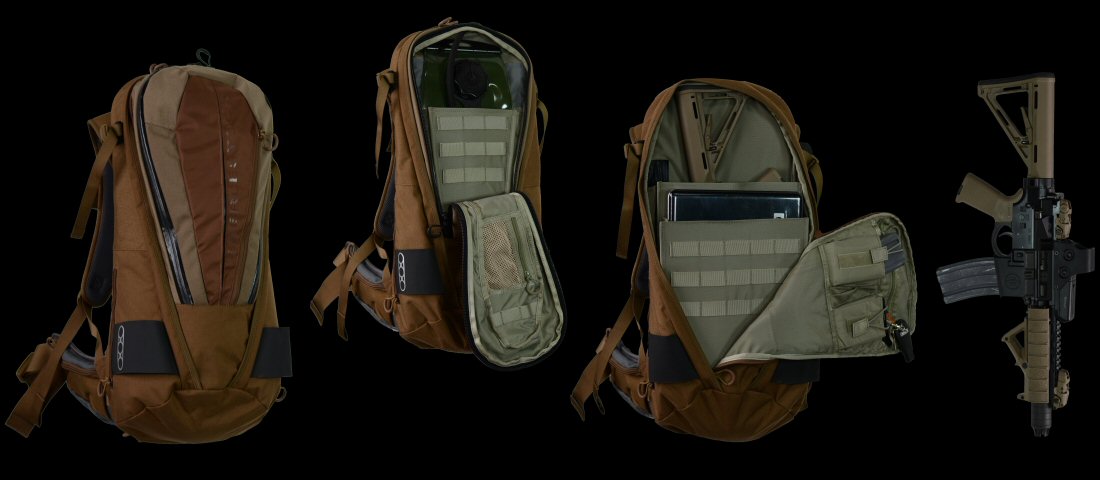 The smaller S25 Cherry Bomb, shown above, has two main compartments, plus an outside pocket under the coffin-logo panel.

-- In the first "public" compartment, you'll find translucent slip-pockets suitable for iphones, with a double pen slot between them, a semi-rigid document / laptop sleeve (which alternates as a hydration bladder stowage pocket, as shown above), opposing rows of MOLLE/PALS type webbing, and a mesh pocket inside the front door.

-- In the second, "private" compartment, you'll find another sleeve suitable for a laptop, plus the main weapon stowage compartment. This is sized for a 7" barreled M4 or similar proportioned weapon (Primary Weapons Systems Diablo shown above). The pack measures 24.5" x 11", and this pocket uses the full dimensions. Also here, you'll find a nice organizer assembly, with two padded magazine / iphone / compact camera compartments, pen sleeves, a zippered pocket, a tuck-pocket, and a key-keeper hook.

-- The pack includes a rain cover stowed in a pocket in the bottom.

-- Removable waistbelt has two zippered pockets (although our favorite way to use this pack is executive-style, with the waistbelt removed).

Standard colors for both packs include three color combinations:
Black / Urban Gray
Coyote Brown / Dry Earth
Military Green / Urban Gray

Color availability will vary. See order link for current colors in stock.

S25 Cherry Bomb: Wt. 4.5 lbs. / 2 kg, 820 cubic inches / 13.4 liters.